Customers can complete payment for products and delivery by credit card.

Previa spa allows payment by means of the following credit cards: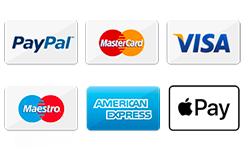 Each purchase is processed with maximum security thanks to the use of the most advanced technological systems in the field of e-commerce and to encryption protocols  (ssl) to protect personal data and credit card information against unauthorised access.
Once an order is completed, a confirmatory e-mail will be sent containing order number and a summary of purchase details.