PROFESSIONAL
The right
technique for each look

Natural, almost imperceptible reflexes, reviving blondes and downplaying chestnuts or marked lifts, for more decisive styles.
Which lifting technique works best? Actually, there is no one technique and a good colourist is such, only if they know how to choose the right one in order to obtain personalised results, based on hair type, traits, and haircut.
KEY INGREDIENTS
Organic blueberry oil, white clay, re-bond complex, Essential citrus fruits oils ingredients of natural origin and from organic agriculture
VEGAN FRIENDLY
formula devoid of ingredients of animal origin.
Healthy and protected hair
this gentle formula respects and protects the hair fibre during the lifting service.
Re-bond complex, with humectant and softening action, strengthens/protects the hair maintaining it intact and compact.
Uniform Lift
ELEVATA PROPRIETÀ SCHIARENTE. AGISCE VELOCEMENTE IN MANIERA OMOGENA E ASSICURA IL PEERFETTO CONTROLLO DEL LIVELLO DI SCHIARITURA.
EARTH FREEHAND

BLEACHING POWDER

A texture specifically thought out to be used without foils. In order to create the right lift in the right place using only your hands . Turning balayage into a painting with precise brush strokes. The secret lies in the clay contained in its formula. What makes the texture of this bleach in powder so precise is precisely its characteristic firm consistency, which does not require the support of foils as, by not dripping and drying quickly, it does not stain overlapping shafts.
EARTH GENTLE

BLEACHING PASTE

A bleaching paste with no ingredients of animal origin, which does not dry the hair and leaves it soft and bouncy. Carries out a moisturising and emollient action on the hair and a soothing action on the skin.  With this formula the lifting service is updated and meets the current need for caring for the well-being of both clients and stylists. The absence of volatility, in fact, eliminates the risk of breathing in irritating particles.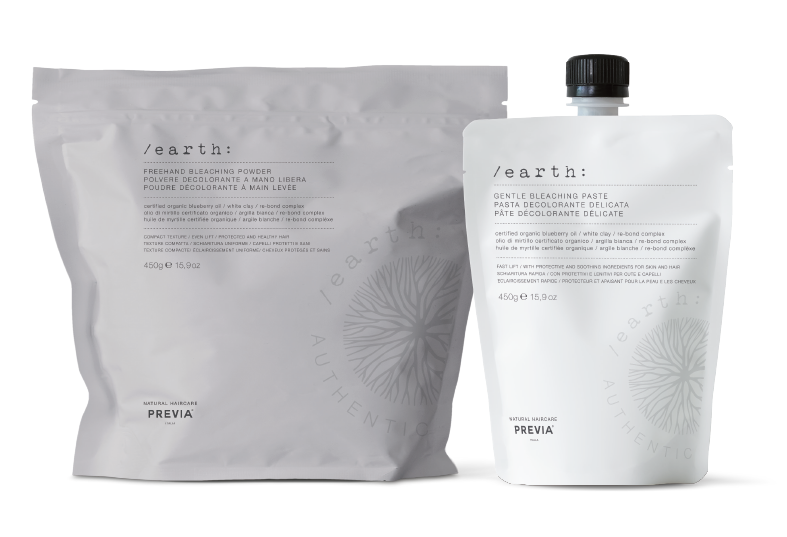 WANT TO KNOW WHERE TO FIND IT?
This product cannot be purchased online
Send an enquiry