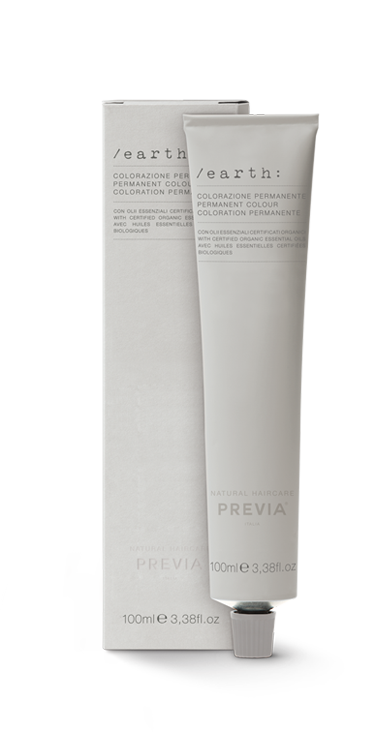 Earth - Shades of Nature
GET INSPIRED BY THE COLOURS OF NATURE
A NATURAL AND GENTLE COLOUR, WITH NO ADDED AMMONIA, MADE WITH INGREDIENTS OF VEGETAL ORIGIN, CERTIFIED ESSENTIAL OILS AND BOTANICAL ACTIVE INGREDIENTS.

DESIGNED TO REVITALISE THE HAIR DURING PROCESSING TIMES, GUARANTEES PERFECT COVERAGE OF GREY HAIR AND SHINY REFLEXES WITH A NATURAL FEEL. A SELECTION OF NUANCES WITH COLD TONES INSPIRED BY THE COLOUR OF NATURE FOR AN AUTHENTIC, LONG-LASTING COLOUR.

69 NUANCES FORMULATED WITH COLDER BASES TO ENSURE NATURAL, SHINY AND LONG-LASTING CHROMATIC RESULTS.






natural effect
69 NUANCES INSPIRED BY UNSPOILT NATURE IN ITS COUNTLESS FORMS, FOR A COLOUR WHICH EMPHASISES THE PERSONALITY OF EVERY WOMAN IN A UNIQUE MANNER. NUANCES ARE FORMULATED WITH COLDER BASES (BLUE/ VIOLET) TO ENSURE NATURAL, SHINY AND LONG-LASTING CHROMATIC RESULTS.
organic ingredients
ENRICHED FORMULA WITH INGREDIENTS OF VEGETAL ORIGIN, CERTIFIED ESSENTIAL OILS AND ACTIVE BOTANICAL INGREDIENTS. CERTIFIED ORGANIC* LEMON AND ORANGE ESSENTIAL OILS CARRY OUT A REVITALISING AND ANTIOXIDANT ACTION FOR HEALTHY HAIR AND LONG-LASTING COLOUR. CERTIFIED ORGANIC* PASSIONFLOWER SEED OIL IS A BEAUTY ELIXIR WHICH PROVIDES SHINE AND VITALITY TO THE HAIR. VEGETABLE GRAPE SEED OIL AND SWEET ALMONDS NATURALLY MOISTURISE THE HAIR AND PROTECT THE SKIN DURING PROCESSING TIMES.
gentle formula
IN ORDER TO MAKE THE TREATMENT GENTLER, EARTH COLOUR DOES NOT CONTAIN ANY AMMONIA OR POTENTIALLY AGGRESSIVE SUBSTANCES SUCH AS PPD, PEG/PPG AND RESORCINOL. A FORMULATION DEVOID OF MINERAL OILS, PETROLATUM, PARABENS, THIAZOLINONE OR INGREDIENTS OF ANIMAL ORIGIN. THE RESULT IS A PRODUCT WITH A GENTLE FRAGRANCE WHICH TAKES CARE OF SKIN AND HAIR DURING A COLOUR SERVICE.
cruelty free and vegan
EARTH COLOUR CAN BOAST PETA'S CRUELTY-FREE AND VEGAN CERTIFICATION, AN ACKNOWLEDGMENT WHICH DEMONSTRATES OUR COMMITMENT TOWARDS ANIMALS. THIS CERTIFICATION IS EXCLUSIVELY ASSIGNED TO PRODUCTS WHICH ARE CREATED WITHOUT RESORTING TO INGREDIENTS OF ANIMAL ORIGIN OR TESTED ON ANIMALS.
cold shades palette
A SELECTION OF 69 NUANCES INSPIRED BY NATURE AND ITS COLOURS. A PALETTE WHICH SEES COLD TONES AS ITS PROTAGONISTS, EMBELLISHED BY SHINY REFLEXES FOR A NATURAL EFFECT. MORNING SHINE, TWILIGHT BLOSSOM, A NORTHERN SUNSET AND AUTUMN LEAVES ARE ONLY SOME OF THE LANDSCAPES WHICH INSPIRED EARTH'S PALETTE.

THE PERFECT CHOICE FOR THOSE WHO ARE SEARCHING FOR A UNIQUE, AUTHENTIC AND MODERN COLOUR.
sustainable
ALL PRODUCTS, BOXES, WRAPS AND ACCESSORIES BY EARTH - AUTHENTIC GREEN CHOICE" REPRESENT PREVIA'S COMMITMENT TOWARDS GREATER ETHICS AND SUSTAINABILITY.

WE PUT CARE AND ATTENTION IN EACH ONE OF OUR CHOICES, SO THAT EACH COMPONENT IS OBTAINED REDUCING WASTE AS MUCH AS POSSIBLE AND FOCUSSING ON SUSTAINABILITY AT EACH PRODUCTION AND CONSUMPTION STAGE. BECAUSE OF THIS WE PREFER RECYCLED MATERIALS OBTAINED FROM RENEWABLE SOURCES, WHICH ARE RECYCLABLE IN ORDER TO MINIMISE ENVIRONMENTAL IMPACT.

QUER SABER ONDE ENCONTRAR?
Este produto não está disponível online
Peça informações