EXTRA LIFE PURIFYING LEAVE-IN LOTION 100 ML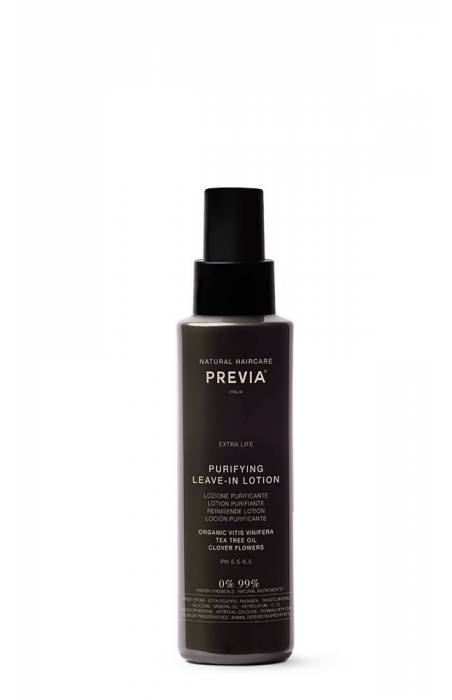  
EXTRA LIFE PURIFYING LEAVE-IN LOTION 100 ML
Purifying leave-in lotion. Daily use. Anti-dandruff. Rebalancing. Soothing.
Ideal for counteracting dandruff, normalising sebum secretion and reducing irritations. Carries out a calming  and emollient action, aimed at reestablishing the intactness and health of the skin's hydrolipidic film. Reduces desquamations, heals itching.
Direction for use: Spray on the scalp at a distance of 1-2cm and massage. Do not rinse.  It can be applied to dry or wet towel-dried hair.
PH 5.5-6.5
CONTAINS
Essential tea tree oil
Sebum regulator, antibacterial, antimycotic and anti-odorant. It is the essential oil par excellence which purifies, soothes and reinvigorates the scalp.
Also contains: icea certified 3hc-hair Stimulation complex (vitis vinifera stem cells, hydrolysed eruca sativa leaf, hydrolysed green walnut extract), salicylic acid, climbazole, extracts of: clover, blackberrry, chestnut.
FREE OF 
EDTA/PEG/PPG - PARABEN - THIAZOLINONE - ARTIFICIAL COLOUR - SILICONE - BENZOFENONE     [read more...] 
OLFACTIVE NOTES
Close yor eyes, and breathe in the beautiful fresh and floral wave, elevating you to the top of the world. The rose, queen of flowers, opens the dance with fresh delicate mandarin.
Top: fresh. Geranium, mandarin, violet, lily of the valley
Heart: floral. Cloves, guaiac wood, Jasmin
Base: marine.Bee wax, ylang ylang, mossy stone crop
EAN-13
8032993661298
Free deliveries for orders over € 60.